Expert Bathroom Remodeling in Long Island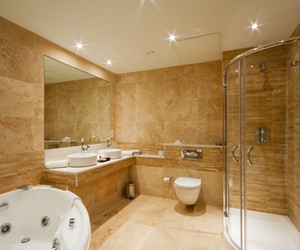 Each and every morning, you and your family rely on your bathrooms to get ready for the day. As such, your bathrooms are absolutely critical to how you and your family use your property. At Magnum Contracting Group, our Long Island bathroom remodeling contractors are here to help you achieve all of your goals.
With our assistance, you can completely transform your bathrooms for the better. We will work hand-in-hand with you at every stage of the effort. Our objective will be to customize every aspect of your living space to your aesthetic tastes and functional needs. By doing so, we can guarantee your complete and total satisfaction.
Call Magnum Contracting Group today if you need to hire a professionally licensed bathroom remodeling contractor in Long Island. Our courteous and polite staff would be happy to assist you in any way that we can. Our knowledgeable experts can answer any of your questions. We can schedule your appointment today.
Master Bathroom Remodeling in Long Island
At Magnum Contracting Group, our Long Island bathroom remodeling contractors believe that every homeowner deserves to have a custom designed and comfortable master bathroom. With our help, you can install spa-like fixtures and appliances in the area, turning your master bath into a comfortable oasis that you enjoy using on a daily basis.
Our bathroom remodeling contractors can also beautify the living space for you. No matter what your goals are, we can accomplish them. We install bathroom flooring, showers, bathroom fixtures, bathroom cabinets, countertops, vanities, and more. There is no end to the possibilities.
Small Bathroom Remodeling in Long Island
If you have never conducted a remodeling project, a small interior bathroom is the perfect place to start. Because the area is relatively small in comparison to other rooms, the project can be completed quickly and easily. Because the living space is so functional, a bathroom renovation effort can reap substantial dividends.
At Magnum Contracting Group, we believe that changes that can make small bathrooms seem more expansive are best. Our home remodeling experts can employ a number of amazing design changes that will open up your bathroom, making all of the tasks you conduct in the area easier and more enjoyable. Your entire family is guaranteed to be completely pleased with the results.
As always, our Long ISland remodeling contractors will constantly stay attuned to your inputs. In this way, we can provide you with the most customized services possible. In the end, your vision for a bathroom remodel will become a reality.
If you would like an estimate for bathroom remodeling in Long Island, please call 516-277-2300 or complete our online request form.
Recent Articles