Call The Experts To Get Your Long Island Home Back To Normal After Storm Damage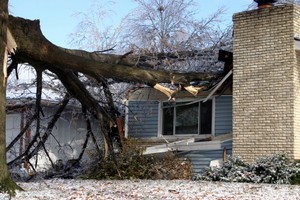 All kinds of severe weather events are, well – just a fact of nature. Some weather events can cause a lot of damage to your Long Island home, but the best-rated roofing contractors in the area can help you with storm damage repair.
If you find yourself needing repair from storm damage, then you need to call the pros at Magnum Contracting Group. Our experienced roofing contractors will provide storm damage repair that will get your home back into tip-top shape before you know it.
Why You Need To Get Repairs For Storm Damage Immediately
When your Long Island home has been damaged by storms, you'll want to get that damage fixed ASAP. If you don't, your home could suffer from other, more significant, and expensive damages. When you get your storm damage taken care of, you'll:
Maintain your home's property value
Maintain your home's curb appeal
Prevent water damage from becoming extensive and expensive
Get your home back to feeling like home again
Why You Shouldn't Attempt Repairing Storm Damage On Your Own
Most homeowners don't know the ins and outs of roofing, let alone how to repair storm damage to their homes. Most wouldn't know where to start and could cause more damage and costly repair from a professional roofing contractor.
There are a few things you can do until the professionals arrive:
Check your roof for lost shingles, but don't risk your safety to do so
Call a professional roofing contractor; they have the tools and knowledge to get the job done
Have your roofing pro do a temporary fix (if rain is leaking into your home), until permanent storm damage repair can be done.
We offer a siding and roof repair for any storm damage that may have affected your home. So, don't delay, call the roofing pros today.
If your Long Island home needs repair from storm damage, please call 516-277-2300 or complete our online request form.
Recent Articles