Long Island Fire Damage Restoration Experts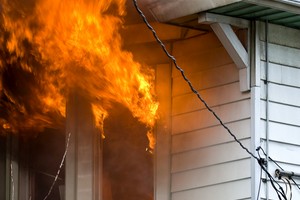 Our Long Island insurance restoration specialists understand the damages that can incur from a fire. It can be truly overwhelming to deal with the aftermath of any disaster. Yet this is the time when it's important for a homeowner to act quickly. The restorations need to begin as soon as possible.
This is why our professionals do all we can to make the fire damage restoration process as easy on the customer as possible. All you need to do is give us a call. We'll take care of the process from the initial inspection, through the insurance claim filing, and on to the completed restoration.
With our Long Island remodeling contractors at your side, your home will function well and look fabulous once again. Let us help you get back to living without all this extra stress.
Full-Service Fire Restoration Contractors
All Phases Of Home Improvements
Reliable Service Focused On The Customer
Extensive Service Area
Fire Damage Inspections
Insurance Restoration Specialists
About Fire Damage Restorations
When a fire destroys part or a major portion of your home, there will also be water damages to contend with. You'll also realize that the fire left behind a horrendous odor. All of this has to be properly dealt with to return the home to the original state.
The first order of business will be an initial inspection for insurance purposes. The home will need to be boarded up where needed.
Let us be your first call. If you have any questions, we will gladly help you with details.
Why Choose Us For Fire Damage Restorations?
As we have for many homeowners and business owners before you, we will restore your property with expertise. Your complete satisfaction is very important to us.
Our contractors are excellent craftsmen. We have an entire team of experienced professionals who are skilled in all types of work including Long Island roofing, electrical, plumbing, siding, flooring, carpentry, masonry, and more.
We manage your fire restoration project from start to finish. Give us a call today so we can get started.
Long Island Fire Damage Restoration Services We Provide:
Fire Damage Restoration
Fire Damage
Fire Restoration
Smoke Damage
Fire Damage Renovation
Storm Damage Restoration
Fire Damage Repair
Storm Damage Repair
Insurance Restoration
Vinyl Siding Manufacturers
Fire Damage Cleanup
Fire Damage Restoration Cleanup
If you need help with Fire Damage Restorations in the Long Island area, please call 516-277-2300 or complete our online request form.
Recent Articles