Albertson Roofing & Remodeling Services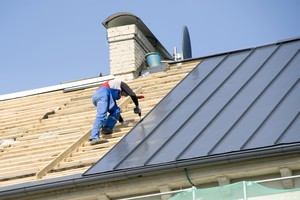 There are many homes in Albertson which have been renovated or remodeled over the years. If your home needs roof repairs or you want to remodel, you'll need a local contractor to help you with the project.
Whether you need roofing services or your Albertson home needs remodeling, Magnum Contracting Group wants to help you with the project.
There are times when you need to make a change. If it's that time for you, then we would love to discuss your ideas. You can count on our experienced roofing and remodeling contractors to handle your projects with expertise. We can help you repair or replace your Albertson roof, remodel the kitchen and bathroom, remodel your basement, add a dormer, add a home extension, repair storm damages, and more.
Our roofing contractors have worked hard over the years to build a good reputation in Albertson. We are focused on superior customer service and high-quality workmanship. If you are ready to get started on your project, call our professionals today for an estimate.
Roof Repairs
Roof Replacements & Installations
Roof Inspections
Insurance Restoration
Siding Installation
Siding Repairs
Insurance Restoration
Albertson Roof Repairs & Insurance Restorations
Has your roof been damaged by a storm or is it time to replace the old shingles? If so, our roofing contractors are highly skilled at roof repairs, inspections, roof replacements, and insurance restorations. We are here to help you restore your roof to good condition. Our renovations team can also install or repair your siding.
Albertson Kitchen, Bathroom, & Home Remodeling
If you've purchased a home that doesn't currently meet your needs or if you've lived there a while and you're ready for a change, remodeling is a great alternative to moving. With remodeling, you choose the paint colors, flooring type, appliances, fixtures, and lighting. This makes your home truly yours.
It takes a lot of experience and care when remodeling a home. You'll want an Albertson remodeling contractor who know how to handle the project from start to finish. Come to Magnum Contracting Group for an exceptional remodeling experience. We take care of your project from start to finish so you get the quality results you need and deserve.
Kitchen & Bathroom Remodeling
Home Additions & Extensions
Dormers & Roofing
Basement Remodeling
Siding Installation
Exterior Remodeling
If you are looking for a professional Albertson roofing contractor or remodeling company, give Magnum Contracting Group a call today at 516-277-2300 or complete our online request form.